No, Barbara Eve Harris does not have a scar on her face in real life like her character, Dot Okoye, in Netflix's FUBAR. It was probably makeup or some kind of prosthetics to make the character more serious and high-profile.
FUBAR is a Netflix action comedy series that tells the story of a retired agent and his daughter, who covertly works for the CIA as well. It depicts a wide range of emotions and a treasure trove of secrets.
The Nick Santora-created show centers on the perplexity of former CIA agent Luke Brunner, who gets the shock of his life when he learns that his daughter Emma is also a covert agent. The series' various thematic action sequences give way to moving disclosures between a father and a daughter as it progresses.
Dot Okoye, one of the characters in the show, has a huge scar on her face. As a result, many people wonder if the Dot actress, Barbara Eve Harris, has the scar in real life. Well, we've got you covered.
FUBAR: Barbara Eve Harris Does Not Have Scar on Her Face in Real Life!
No, the Dot Okoye actress, Barbara Eve Harris, does not have any scar on her face in real life. Barbara's pictures off the screen confirm that she does not have any such scars on her face. It appears makeup or some kind of prosthetics was applied to her face as a part of a character.
Barbara Eve Harris' scar on her face in FUBAR is not real.
Image Source: HITC
Barbara plays the role of a CIA Director. Even though the series never reveal how Dot got the scar on her face, we can assume the creators might have displayed it in that way in order to give the character a sense of seriousness as well as authority.
A person just does not become a CIA Director. They have to have a work experience of many years as an agent. Hence, we can assume the character of Barbara Eve Harris might have received the scar while she was an agent.
Perhaps being injured prompted her to choose a desk job, allowing her to advance to the position of director, as a large scar on her face would have made undercover work significantly more difficult.
These days, a lot of actors use different makeup and prosthetics on their faces as well as bodies. Professional artists make it look like it is real. However, it can be washed up or removed in a few minutes.
A Quick Glance at Barbara Eve Harris's Character, Dot Okoye, in FUBAR!
Barbara Eve Harris plays the role of the CIA director, Dot Okoye, in Netflix's FUBAR, who is introduced in the second episode of the series. After a mission in Guyana went awry, Dot wants Emma and Luke Brunner to collaborate on the mission. The tactic is unpopular, though, because Luke and Emma interfered with one another during the last mission and were unaware of each other's respective CIA careers.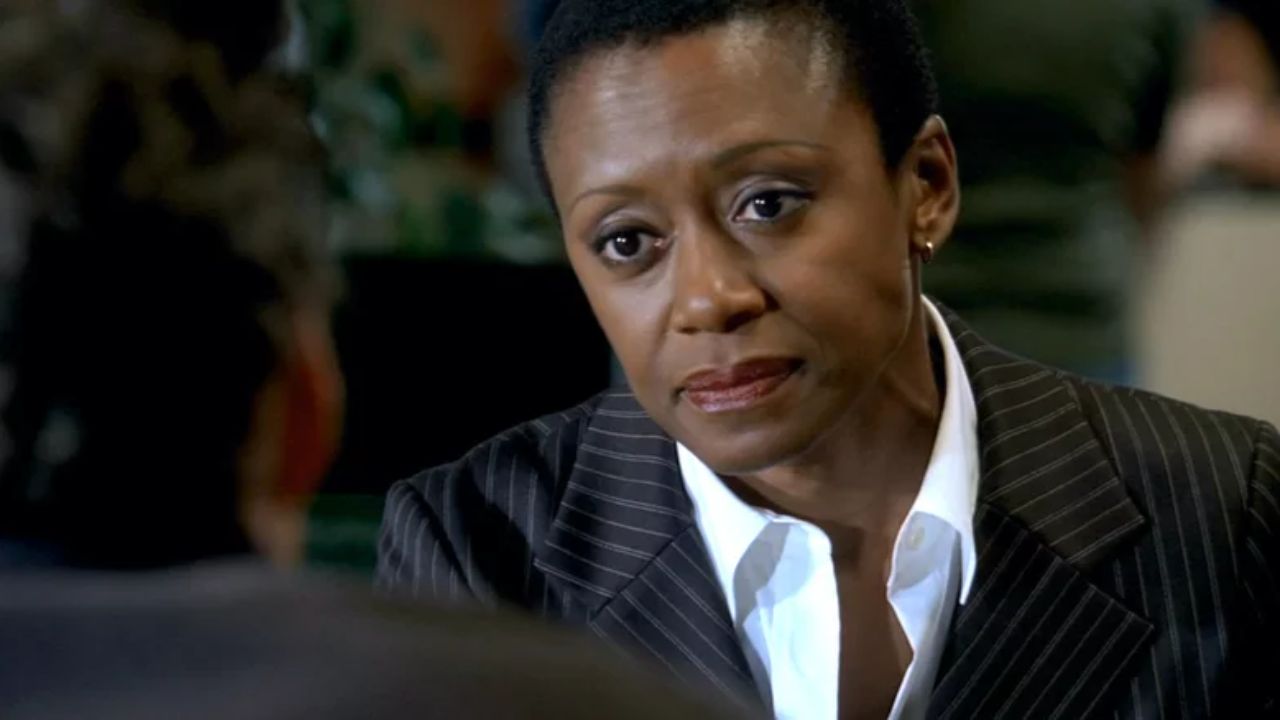 Barbara Eve Harris plays the role of Dot Okoye in FUBAR.
Image Source: Looper
Director Okoye continues to come throughout the series to update the Brunners and their team on the progress of the mission. Despite holding the position of CIA director, her duties are more similar to those of a teacher trying to keep control over a team of operatives who spend much of their time fighting like a bunch of mischievous children.
FUBAR is now streaming on Netflix.