Here's a complete Wikipedia of Dani Arnold aka Daniel, an alpinist (climber) from Switzerland, who made a name for himself as he went toe to toe with a man, Ueli Steck, who actually inspired him to become a climber.
Race to the Summit, a German documentary on Netflix, concentrates on the extreme sport of speed mountain climbing, which has recently acquired appeal among mountain climbers. The documentary showcases the rivalry of two of the best alpine climbers, Ueli Steck and Daniel Arnold aka Dani Arnold.
Arnold beat Steck's record for climbing the Eiger mountain in 2011, sparking a rivalry between the two climbers who frequently went solo and without any equipment. As they fought to break records, that competitive spirit led to additional clashes. The rivalry between the two alpinists, however, came to an end when Ueli was discovered dead after allegedly slipping and falling into a crevice at a height of about 1,000 meters on Mount Nuptse.
With the release of the documentary, many people have been curious to know more about Dani Arnold, including his background and where he is now. Well, here's his complete Wikipedia.
Wikipedia: Daniel Arnold's Journey to Become an Alpinist (Climber)!
Alpinist Daniel Arnold (@daniarnold_alpinist) was born in Switzerland in February 1984. He grew up beside the mountains in the village of Biel ob Burglen and had a connection to the natural world. He was inspired by Ueli Steck when he first developed an interest to become a climber.
Dani Arnold was inspired by Ueli Steck to become a climber.
Image Source: Instagram
Steck encouraged him that being a climber could be a viable source of income. After extensively observing Steck to learn about his technique, Dani Arnold made the decision to climb the north face of the Eiger. Dani was aware that he was undertaking a monumental task, but he felt prepared for it. He could finish climbs that would normally take hours.
In 2011, Dani Arnold broke Steck's record for climbing the north face of the Eiger. By then, he had advanced to climbing the same summits as Steck. He finished it in 2 hours and 28 minutes, finishing 20 minutes ahead of Steck, who later improved his time from 2015 by 6 minutes.
The rivalry started after Dani read a newspaper piece in which Ueli downplayed his accomplishment by saying that Dani had used a rope while climbing. It was evident how unconfident he felt at the moment that he went so far as to accuse Dani of cheating. Ueli claimed to have originated the concept of a "pure climb," and he attempted to utilize it to set himself apart from his rival.
After the media began to doubt his accomplishments as well, Dani Arnold felt the need to demonstrate his worth. He didn't want to be dismissed, therefore it became crucial for him to convince people that he was someone to be wary of.
What Is Dani Arnold Upto These Days?
Daniel Arnold climbs to this date. Additionally, he is also a keynote speaker and mountain guide. He resides in the Swiss town of Bürglen with his wife Denise and their daughter.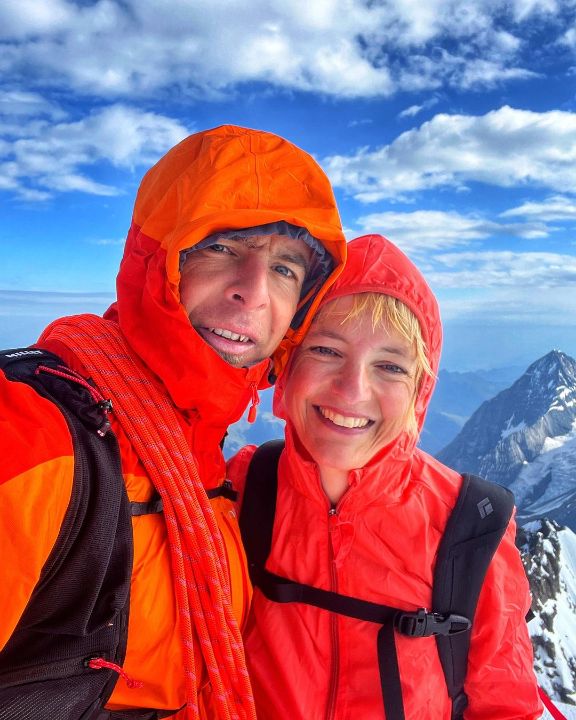 Dani Arnold currently lives in Bürglen with his family.
Image Source: Instagram
Arnold holds speed records on the Alps' six great north faces: the Eiger, Matterhorn, Grandes Jorasses, Grosse Zinne, Piz Badile, and Petit Dru. The accomplishments of which he is most proud are those that are less well recognized, and he names "The Hurting" and "Anubis" in Scotland as the physically and mentally challenging climbs he has attempted.
Talking to Climbing Now, Dani Arnold explained how having children made him less risk-tolerant. He now thinks twice before starting several climbs and has canceled several times his plans to ascend the Petit Dru after checking the freezing point. He further added,
Of course, [what I do] isn't normal living. But if you're really prepared for something, I think the risk is not as high as it looks. I'm more afraid of having an accident on these two hundred or more days a year where I'm just outside doing normal things, not thinking, than I am on the days when I do these big solos, where I prepare so much and take everything into account.