Yes, Dan Buettner's new book, The Blue Zones Secrets for Living Longer: Lessons From the Healthiest Places on Earth, is already available on the market. You can buy it from various platforms, including Amazon, Bookshop, Target, and Barnes & Noble.
The four-part Netflix original documentary series, Live to 100: Secrets of the Blue Zones, directed by Clay Jeter, lives up to its title in every manner possible. After all, the plot revolves around author, educator, producer, and storyteller Dan Buettner as he investigates places where people typically live longer, happier lives in order to uncover the truth about their way of life.
Therefore, it should come as no surprise that Dan has been exploring this subject ever since he first worked with National Geographic in the 2000s, only for him to now go deeper into it on his own.
And if you've been following Dan Buettner on Instagram, you might have observed that he has been promoting his new book frequently. On the other hand, many people seek more information about it, including if it is already available to purchase. Well, we've got you covered.
Details on Dan Buettner's New Book, The Blue Zones Secrets for Living Longer: Lessons From the Healthiest Places on Earth!
If you are a fan of Dan Buettner, you might not want to miss his new book, The Blue Zones Secrets for Living Longer: Lessons From the Healthiest Places on Earth. And yes, the book is already available in the market.
As per Amazon, the book was released on August 29, 2023. While you can purchase a hardcover version of the book for $22.99, you can add it to your Kindle library for $14.99. Apart from Amazon, you also can get the book from Target, Barnes & Noble, and Bookshop.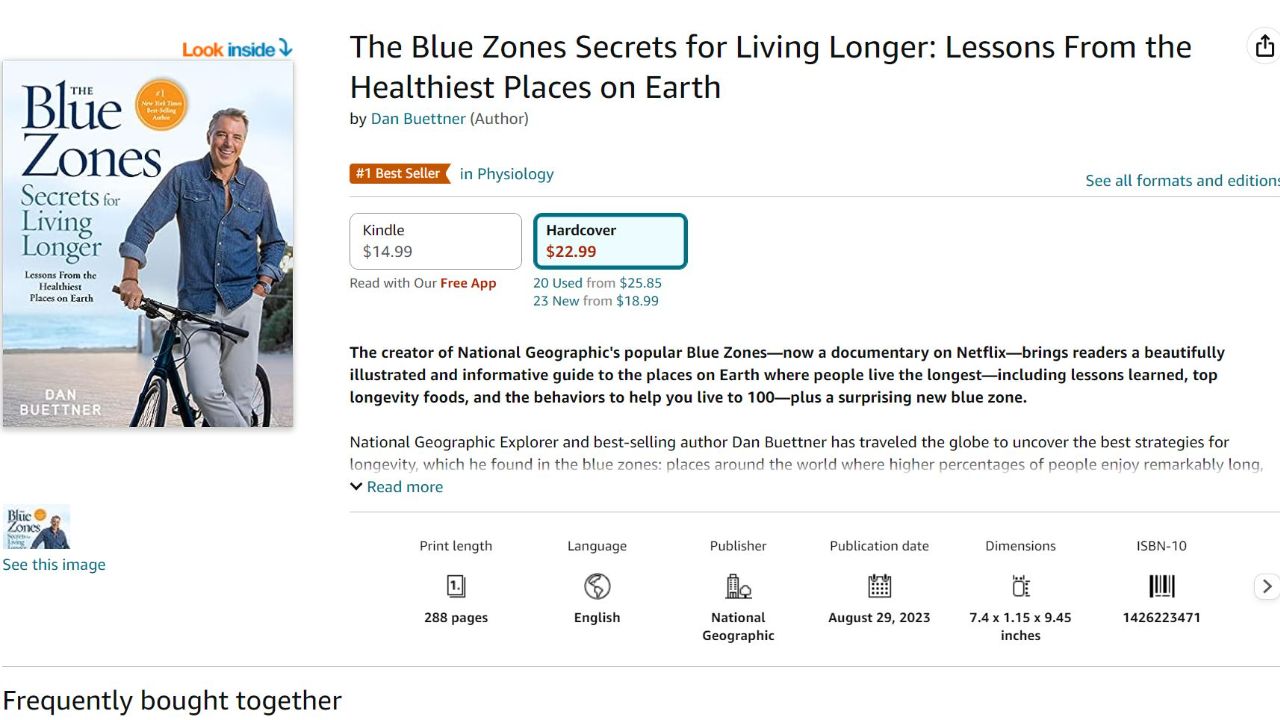 Dan Buettner's new book can be purchased from multiple platforms.
Image Source: Amazon
While we haven't read the book yet, we can assume Dan Buettner has focused on the locations where people live the longest by the name of his new book. No doubt, Dan has always been able to attract people with his research.
More About Dan Buettner: How Actually Did His Journey Start?
Dan Buettner (@danbuettner) was one of four kids born to health-conscious travelers Dolly and Roger Buettner on June 18, 1960, in St. Paul, Minnesota. Dan's granddad was the one who helped him discover his calling.
In reality, his father did begin by fostering "a sense of adventure" in him by taking the brothers on extended camping trips into the forest when they were little. But by giving him his first bike as a gift, Dan's grandfather provided him the opportunity to travel the world, allowing him to eventually set three world records before recognizing he wanted something with more meaning.
It was Dan Buettner's grandfather who initially helped him discover his interest.
Image Source: Instagram
Thus, the 1982 University of St. Thomas journalism graduate started his career at The Washington Post before advancing to National Geographic, where he eventually discovered longevity, Blue Zones.
Dan, a lifelong learner, decided to research the subject and found that healthy relationships in general and closeness to family can extend life expectancy by 2 to 7 years. So it should come as no surprise that Dan still keeps in touch with all of his family members. In fact, Dan and his family FaceTime every evening for 15 to 20 minutes at 7 o'clock. In an interview with Easy Reader News, he once explained,
It's only 15 or 20 minutes a night, but every night we have a family conversation. My three brothers and my parents — it's like sitting around the kitchen table 40 years ago, every day. Which we never did, because we were all too goddamned busy.