Barbie Ferreira has been in an open relationship with her girlfriend, Elle Puckett, since 2019. The former Euphoria star frequently posts about Elle on her Instagram stories. Additionally, she previously revealed that they have even gotten matching tattoos.
Barbie Ferreira, known for playing the role of Kat Hernandez in Euphoria, announced in August 2022 that she would not return for the third season of the show due to alleged disagreements with series creator, Sam Levinson.
Recently, the former Euphoria star opened up about her decision to leave the popular HBO series on a recent episode of the Armchair Expert podcast, and her reasoning provided much-needed clarity.
And since the news, candidness about her decision to leave Euphoria may have made many people wonder about other aspects of her life that she rarely discusses, including her personal life affairs. While everyone knows she is queer, people wonder who her girlfriend is. Well, let's find it out.
Find out the relationship status of Hans Kim and Tia Mowry.
Barbie Ferreira's Girlfriend: The Former Euphoria Cast Ahs Been Dating Elle Puckett Since 2019!
Barbie Ferreira (@barbieferreira) is currently in a relationship with her girlfriend, Elle Puckett, a musician known as Rosie Ugly (@rosieugly). According to Warm Audio, Barbie's partner is an artist, guitarist, and producer who lives in Los Angeles and has been involved in the music industry since she was 16. Elle and her sister formed Poema, a pop band, and signed with Tooth & Nail Records in 2008.
Later, Barbie's girlfriend launched her solo career after seven years with the band, dividing her time between Nashville and Portland while working on her first project. In addition, the musician toured as Eisley's lead guitarist from 2015 to 2017. Following that, she went on international tours with Grammy-winning artist Maggie Rogers.
Barbie Ferreira and her girlfriend, Elle Puckett.
Source: Instagram
Barbie Ferreira revealed to Out in July 2019 that she is queer. She previously admitted that in the past, she preferred to keep that aspect of her life relatively private. However, since her debut as Kat Hernandez in Euphoria that same year, she has gradually become more comfortable discussing her sexuality.
So much so that she told the New York Times that same year that she'd like to see her character in the HBO series explore her queerness. She told the publication, "I feel like in my personal life, I've been gay as hell. I think Kat's a little queer, but that might be my perspective."  Around that time, Barbie started dating Elle. They've been dating since 2019, but the actress rarely mentions her girlfriend on social media (apart from a few Instagram stories here and there).
Similarly, the Nope actress revealed in a series of Instagram stories in March 2022 that she and Elle had gotten matching heart tattoos. However, it wasn't the first time that Ink had brought the couple together. Barbie admitted to Cosmopolitan in September 2020 that her partner gave her a stick-and-poke tattoo on her buttocks.  At the time, she stated,  "It's a spiral on my butt.....A spiral for my quarantine spiral."
Barbie Ferreira Explained Why She Decided to Leave Euphoria!
Barbie Ferreira is making things clear. Months after leaving HBO's Euphoria, the actress discussed her decision on the Armchair Expert with Dax Shepard podcast on April 4, 2023, saying she and showrunner Sam Levinson reached a mutual decision about her departure.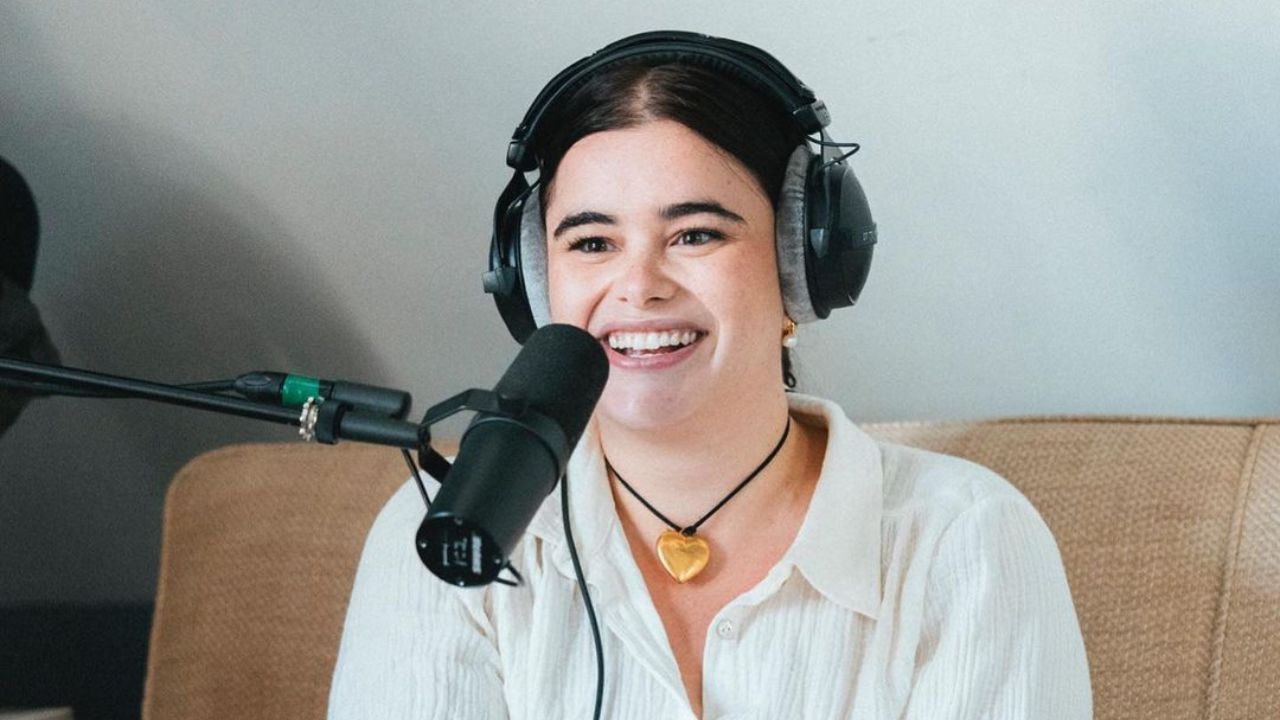 Barbie Ferreira's latest appearance at the Armchair Expert with Dax Shepard podcast.
Source: Instagram
Later, Ferreira addressed rumors that she and Levinson were feuding, as well as criticisms that Kat's role was diminished in the second season. She stated,
For me, when people ask me about season 2, it's usually they come at me with, like, I was some sort of victim to season 2 and I'm always like, 'No, it's okay, promise. It's good. I kind of got sucked into this drama that I never asked to be in and that I've never talked about. I'm of the mindset that if it doesn't exit I'm not going to address it because then I'm adding fuel to it.
She added,
It's taken on a life of its own. Don't believe everything you read. think my character, who I love so dearly, I don't think there was a place for her to go. I think there were places she could have gone. I just don't think it would have fit into the show. I don't know if it was going to do her justice, and I think both parties knew that. I really wanted to be able to not be the fat best friend. I don't want to play that, and I think they didn't want that either.
Ferreira believes that releasing Kat's storyline has been liberating for both of them (herself and Levinson), but it was difficult to say goodbye to the character.  She explained, "And it obviously hurts because I love Kat and she was so important to me and I think to a lot of people with all her good and bad mostly bad, which I love. And it was like a character I've never seen on TV before, and I don't know if we'll ever get something like that in that specific way that was so edgy [again]."