Heartstopper takes place in a fictional school named Truham Boys School, like in the books. In reality, it is filmed at Herne Bay High School in Kent, England. However, lots of scenes are shot in Paris, France, in Season 2.
Heartstopper, a Netflix romance series created by Alice Oseman, follows Charlie Spring, who has a crush on his schoolmate Nick Nelson. Charlie and Nick form a friendship while sitting in the same class as deskmates.
Charlie's touching devotion to Nick, who begins his path of self-discovery, propels the teenage drama further. Despite the homophobia in their school community, the two of them maintain a loving and intimate relationship.
Season 2 of the show just arrived on the streaming platform. While the characters go to Paris for a school trip in the recent season, many people have been curious to know where the series actually takes place in real life. Is Truham Boys School a real place? Let's find it out.
Previously, we touched on William Gao, Tao Xu, Isaac, and Kit Connor.
Heartstopper Primarily Takes Place in the Fictional School of Truham Boys School: However, It Is Actually Filmed in Herne Bay High School in Kent, England!
Just like in the books, Heartstopper on Netflix takes place in Truham Boys School. However, do note that it isn't a real school. It is a fictional place. In reality, Herne Bay High School in Herne Bay, a seaside town in Kent, England, was used as a backdrop. Of course, they set up business there after school hours, so no actual students were involved in the production of the play.
Heartstopper actually takes place in Herne Bay, England.
Image Source: TUDUM
The beach town is located in South East England on the shore of the Thames Estuary. Herne Bay was chosen for its lovely coastline to show Charlie and Nick's story on screen. The Netflix show's production crew also shot various scenes at Herne Bay Pier on Central Parade, the beach, and the town center of the coastal town.
On the other hand, despite the fact that the majority of Heartstopper season 2 episodes are set in England, episodes 4, 5, and 6 show the protagonists visiting Paris, France, as part of a required school excursion. Throughout the three episodes, they visit several landmarks and locations, and the cast members really filmed these sequences on location in the City of Love.
Know Where Exactly Heartstopper Season 2 Took Place in Paris, France!
Montmartre, a huge hill in Paris' northern 18th arrondissement, was one of the most prominent locations used by the actors and crew. In Episode 4 of Heartstopper Season 2, the characters split off to visit two tourist attractions in Montmartre: the Sacré Coeur Basilica and the Musée de Montmartre.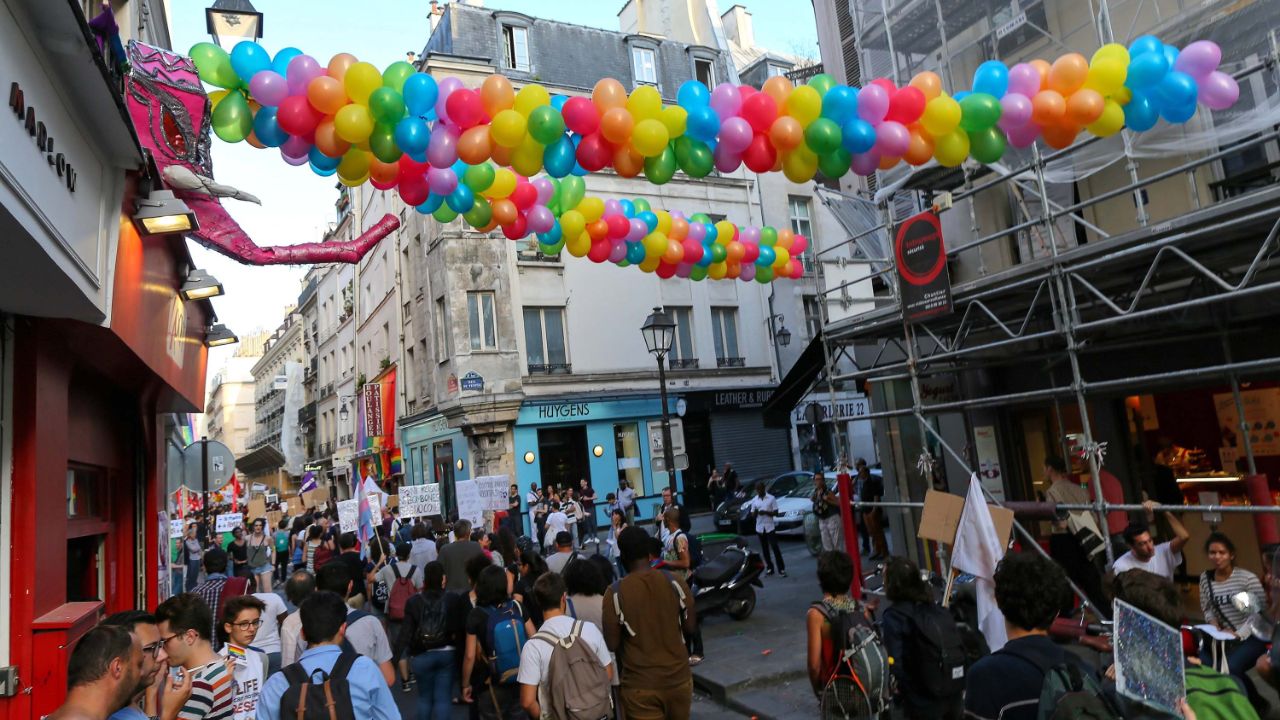 Lost of screens in Heartstopper Season 2 were filmed in Paris, France.
Image Source: Radio Times
Following episode 4, the protagonists leave Montmartre and visit the Arc de Triomphe, the Eiffel Tower, the Louvre, Shakespeare and Company, Notre Dame, and the Pont des Arts bridge. The students split up into pairs in Episode 5 to perform some French homework before reconvening to climb the Eiffel Tower.
While the characters are still in Paris, one of the most crucial and moving events in Heartstopper season 2 occurs in episode 6. The scene takes place at the opening of the episode and depicts Nick and Charlie strolling through a boulevard decked with rainbow pride flags and umbrellas.
When Nick and Charlie spot a homosexual couple going by and hugging, they decide to hold hands in public. It's a little scene, but it's packed with meaning. The cast and crew appear to have shot it in Le Marais, a historic region in Paris, France famed for its LGBTQ+ culture.
While the inside Truham Grammar School sequences were taken at Herne Bay High School in Heartstopper season 2, the outside visuals were done at E-ACT Burnham Park Academy in Burnham, Buckinghamshire, England. The rugby sequences for the second season, in particular, were shot on the school grounds.
E-ACT Burnham Park Academy closed in 2019, leaving the cast and crew with an undisturbed setting for the outside Truham Grammar School shots in Heartstopper seasons 1 and 2.
Before leaving, find out details on Kit Connor vaping.