As of right now, Viktor Hovland does not appear to have a wife/spouse or a girlfriend. Yes, the 25-year-old golf star has yet to get married. However, some reports claim that he is frequently spotted with a woman named Kristin Sorsdal.
Viktor Hovland, who is currently 25 years old, is one of the most popular names in the gold as he is currently in the 9th position in the World Golf Ranking. After winning the 2018 U.S. Amateur, the Norwegian golfer became the first Norwegian to win the 2020 Puerto Rico Open on the PGA Tour and the 2021 BMW International on the European Tour.
Since then, Viktor has won the Hero Global Challenge and the Slync.io Dubai Desert Classic. He has also earned the nickname "Resort King" since his first five professional victories occurred outside of the United States.
In addition to his playing skills, Viktor Hovland is also known for his charming and attractive appearance. With that said, we're sure many of you are curious to know if he has a wife/girlfriend or if he is single. Well, we've got you covered.
Find out the relationship status of Big Jay Oakerson and Justin Thomas.
Viktor Hovland's Wife/Girlfriend: The 25-Year-Old Golf Star Does Not Appear to Be in a Relationship Right Now!
At the moment, Viktor Hovland (@viktor_hovland) does not appear to have a girlfriend or a wife/spouse. There's no indication on his Instagram about his possible partner. It seems the young golf star does really prefer to share his personal life with the public.
Viktor Hovland does not appear to have a wife or a girlfriend right now.
Source: Instagram
Considering he is just 25 years old, we can assume that Viktor might be currently focused on his career and gameplaying. As one of the top golf players in the world, he might be taking his time before jumping into a relationship. With all the support, care, and love from your girlfriend or wife, there comes a huge responsibility and a little distraction as well. We just believe he is more focused on his golf career right now.
Viktor Hovland was one of just two players at the 2021 Ryder Cup who did not have a wife or girlfriend, and they appeared to enjoy it, as both he and Matt Fitzpatrick were in pictures at the gala dinner with all of the European team's wives and girlfriends, as shown below.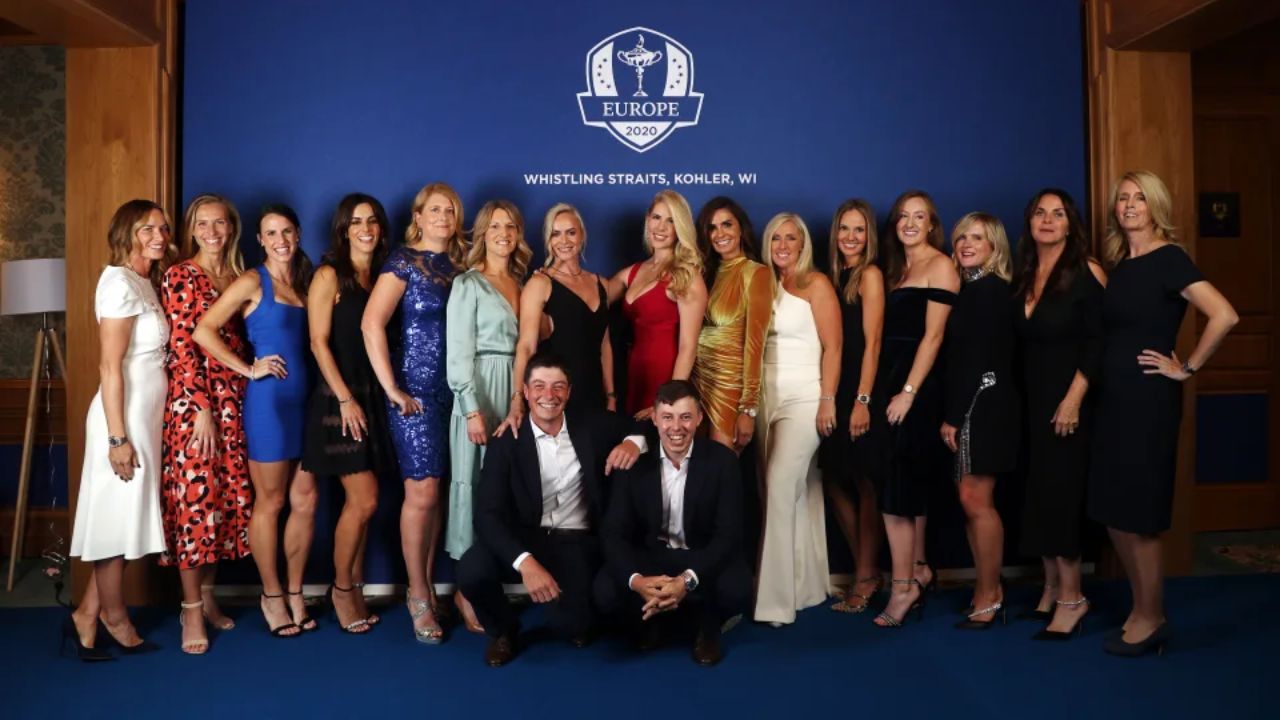 Viktor Hovland and Matt Fitzpatrick with the European team's wives and girlfriends.
Source: Yahoo
On the other hand, there's a slight chance he already has a girlfriend but does not want to showcase her in the public. A lot of people these days hide their relationship status or partner. According to some unverified sources, he has frequently been spotted with a woman named Kristin Sorsdal. However, the information does not have any strong indications.
Anyway, we don't believe Viktor Hovland is currently interested in having a girlfriend or a wife. He'll, however, certainly get married in the coming days since he is already 25. After all, everyone needs someone by their side, especially when you're as talented and as popular as Viktor. We promise we'll get back to you as soon as we get any further information about his relationship status.
Viktor Hovland & Jordan Spieth Near Top of Masters Leaderboard!
The Butler Cabin at Augusta is no stranger to Jordan Spieth. PGA Tour victories are nothing new for Viktor Hovland. And on Sunday at The Masters in Augusta, Georgia, both players are in a strong position.
Spieth, who dropped out of the Top 10 on Saturday after shooting a 4-over 76, jumped back in with a great performance in the final round. The former Texas Longhorns player had a 12-hole score of 4-under, or 43. He moved up to a tie for sixth place at 5-under on the weekend as a result. And with Jon Rahm and Brooks Koepka both at 10-under, it puts them only five strokes down in first place.
Hovland, meanwhile, is drawing much closer to the lead. The former Oklahoma State star started the weekend with a 7-under 65, which placed him in a strong position right away. He shot 1 under the next two days, and as of Sunday, he has been a picture of consistency. He is only two strokes off the lead after playing the first five holes at even par.
Spieth would be wearing the green jacket for the second time if he managed to recover and win. Moreover, he did so in 2015 when he recorded an amazing 18-under 270. If Hovland wins, it will be his fourth PGA Tour victory and ninth overall. Yet, given the standing, this one would undoubtedly hit quite differently. We'll have to wait and watch how the competition plays out. But these two are doing a great job of promoting the Big 12.