The Fab Five from Queer Eye meets Lambda Chi Alpha fraternity brothers: Cooper Lemon, Josh Johnson, Ryan Parker, Josh Allen, and Ian Raybourn at the University of New Orleans to renovate a frat house in Season 7 of the show.
Over the years, Queer Eye has transformed a wide range of heroes, from ranchers to homosexual pastors. But we've never seen anything like what Season 7 has in store for us. And in the first teaser for the new season, which debuted on Netflix on May 12, the Fab Five will be helping the Lambda Chi Alpha brothers.
As the Lambda Chi Alpha fraternity enters this mildew and fly-infested party house, their happy quips quickly turn into cries of terror. It's all part of the new season in New Orleans for Bobby Berk, Antoni Porowski, Jonathan Van Ness, Karamo Brown, and Tan France. But it won't all be sequins and Mardi Gras masks. The crew challenges their heroes to tackle everything from toxic masculinity to their own internalized homophobia in the tear-filled teaser.
So, if you are curious to learn more about the Lambda Chi Alpha fraternity brothers and wonder about their journey in the Netflix show, here is everything you need to know!
Previously, we discussed Maryam Henderson-Uloho and Jemell M. Nelson.
Lambda Chi Alpha Fraternity Brothers From Queer Eye Nominated Their Frat House for a Transformation Because They Wanted to Make a Positive Change!
In Season 7 of Queer Eye, the Fab Five encounters Lambda Chi Alpha fraternity brothers: Cooper Lemon, Josh Johnson, Ryan Parker, Josh Allen, and Ian Raybourn at the University of New Orleans to fix a frat house. According to alumni advisor Marco Perez, the boys are nice youngsters who are very philanthropic, and Lambda Chi Alpha is probably the most active chapter in terms of community service. However, he claims that the frat house is likewise in disarray.
Perez adds that numerous members are from modest means, making it difficult for them to pay dues, purchase items for the house, and compete with better-funded frats. He discloses that the fraternity is not in good financial standing, which means that the Fab Five must assist clean up the house and its members so that the fraternity may have an alumni event and raise funds.
Lambda Chi Alpha fraternity brothers from the University of New Orleans.
Image Source: The Cinemaholic
Seniors Ian Raybourn and Josh Allen had nominated their frat for a transformation because they wanted to make a positive change but didn't know where to begin. That's because, despite being young adults away from home at university, the brothers had never learned to be independent, let alone take care of themselves or their surroundings. However, because they knew the type of men they wanted to be, they decided to seek some much-needed assistance.
When Antoni Porowski, Tan France, Karamo Brown, Bobby Berk, and Jonathan Van Ness first arrive, it appears that the Lambda Chi Alpha fraternity brothers face an uphill struggle. When the Queer Eye crew arrives at 2 p.m., all of the current members are still sleeping, and the cast quips that the house is full of lost boys, who are sleeping in every dirty crevice they can find before waking them up.
The frat boys talk about how the fundraiser money will be used for brotherhood getaways and philanthropic initiatives. They eventually clean up, learn how to cook a muffuletta sandwich with Antoni, and have a heart-to-heart with Karamo, during which Demario discusses his personal and financial difficulties.
The Lambda Chi Alpha fraternity brothers hold what appears to be a successful alumni mixer, with several former members vowing to donate to the fraternity.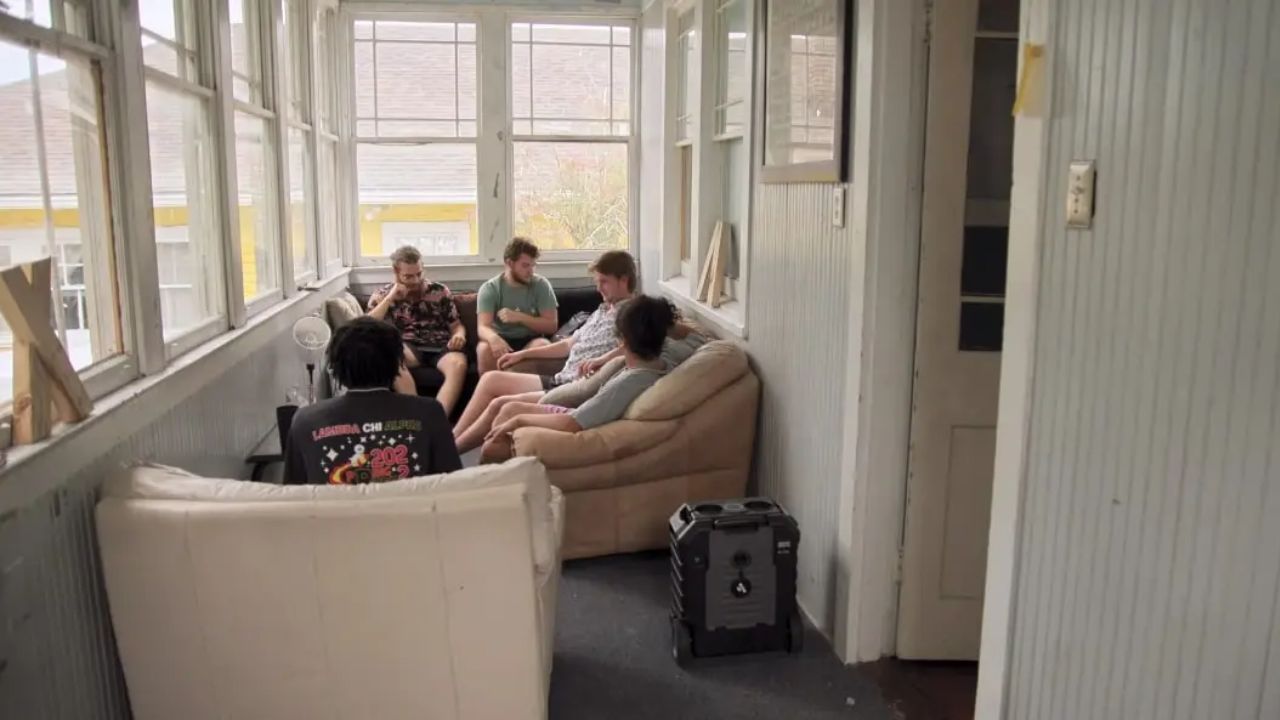 Lambda Chi Alpha fraternity members on Netflix's Queer Eye.
Image Source: The Cinemaholic
The Lambda Chi Alpha fraternity has remained active after the filming of Queer Eye, and they have continued to host humanitarian activities. According to Instagram, they held a blood drive on campus on May 8 and a large canned food collection for Feeding America in November 2022. On November 6, they stated on Instagram,
Over 5,000 dollars and over 450 pounds of canned food raised for @feedingamerica, breaking a new chapter record! Thank you to all the sororities who participated, none of this would be complete without y'all.
As a fraternity, they've naturally kept up with a slew of social gatherings. They went mini-golfing with a sister fraternity, went to a spring dance, conducted a goofy tug-of-war event, and graduated together in Alabama in March.
Regarding the members portrayed on the show, Marco was elected president of UNO's Interfraternity Council in January, which supervises all fraternities on campus. Ian and Josh A. appear to be on track to graduate at the end of the spring 2023 semester. Tan's new outfit will undoubtedly come in handy on the big day.
Before leaving, find out how to submit the nomination form and if the nominees get to keep the furniture.