Ben Hardy reportedly has a brother named Michael Jones. However, he is not related to Tom Hardy. The 2 actors are not siblings.
Ben Hardy, a British actor recognized for his various performances in television and movies, has captivated audiences all over the world with his ability. Hardy has an outstanding resume that includes playing Peter Beale in EastEnders, and Queen drummer Roger Taylor in the movie Bohemian Rhapsody.
Ben is currently making headlines as he played the lead role in the new Netflix movie, Love at First Sight. The film follows Hadley Sullivan (Haley Lu Richardson), a 17-year-old girl who misses her flight and is detained in a crowded airport waiting room. Unexpectedly, a young British man by the name of Oliver (played by Ben) is also there. The two people quickly become friends but eventually get estranged when they arrive at Heathrow.
With the release of the movie, a lot of viewers have been curious to know about both lead actors, especially Ben. People want to know everything about him, including if he has a brother. Well, we've got you covered.
Previously, we touched on Ben Hardy's girlfriend.
Reports Suggest Ben Hardy Has a Brother Named Michael Jones!
While Wikipedia has not mentioned anything about Ben Hardy's possible brother (sibling) or parents, some other sources suggest that he has a brother named Michael Jones a.k.a Mike. A lot of you might be unaware that Ben was born as Ben Jones. He later changed his last name to Hardy.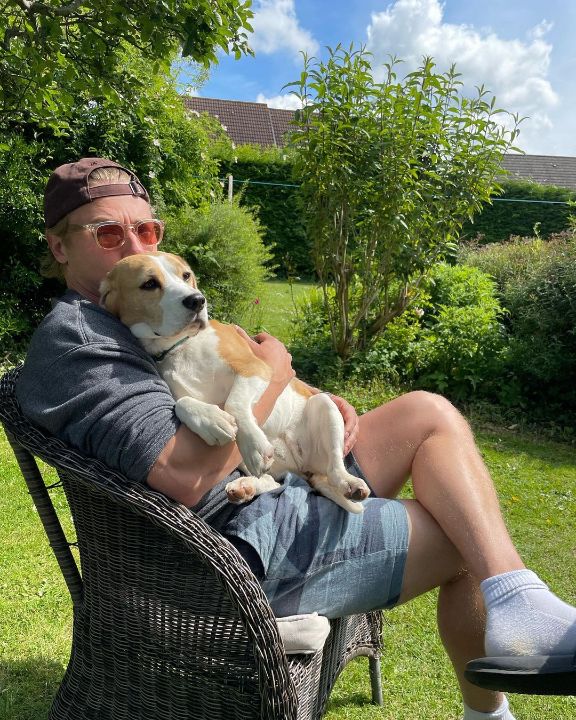 A man named Michael Jones is reported to be Ben Hardy's brother.
Image Source: Instagram
However, not much is known about his brother. Matter of fact, we are not even sure if Mike is an elder or younger brother. Ben has been pretty successful in keeping the details about his parents and possible brother away from the spotlight.
Since he uses Hardy as his last name, many people even relate him to actor Tom Hardy. They believe they are brothers. Well, it's untrue. The two actors are not connected in any way. Now let's get to know more about his early life.
Despite being born on January 2, 1991, in Bournemouth, Dorset, on the South-West coast of England, UK, Ben Hardy  (@benhardy) spent his childhood years in Sherborne, in North-West Dorset. He first attended Sherborne Abbey Primary School before moving on to The Gryphon School.
Hardy enjoyed theatre class in school, but until he was a teenager, he was more engaged in sports and had little interest in pursuing a career in acting. When he was 15, a string of injuries caused him to stop playing sports, including rugby. At the invitation of a friend, he went to the neighborhood drama club at the time, where he gradually developed an interest in performing arts.
Ben played the part of Sergeant Francis Troy in the school's rendition of Far From the Madding Crowd while attending The Gryphon School. He then began his study at the Royal Central School of Speech and Drama when he was 18 years old, and he eventually earned a Bachelor of Arts (Hons.) in Acting.
A Look at Ben Hardy's Rise to Stardom!
The release of the BBC soap opera EastEnders in June 2013 marked the start of a significant chapter in Ben Hardy's professional life. His career advanced, thanks to his depiction of Peter Beagle in the drama series.
Ben Hardy's breakthrough came after he was cast in BBC's EastEnders.
Image Source: Instagram
He entered Hollywood after leaving the show in 2015, playing the winged mutant Angel in movies like X-Men: Apocalypse. One of his most notable performances came in 2018's critically acclaimed Bohemian Rhapsody as Queen drummer Roger Taylor.
His performance thrust him into the public eye on a global scale and brought him praise for his outstanding interpretation of the artist. Ben has also made important television appearances, such as in The Girl Before, The Woman in White, and Drunk History. Additionally, his IMDb profile suggests that he is currently working on 2 projects.