The rumor about Allegra Edwards being pregnant is currently surfacing on the Internet. However, we don't think the Ingrid actress is expecting a child given that she gave birth to her first child just over a year ago. Well, let's discuss it in detail.
Season 3 of Upload has finally arrived on Prime Video. The new season keeps the characters on edge by presenting them with one hurdle after another. When one mystery appears to be solved, another appears, and Nathan and Nora find themselves plunging deeper into the pool of secrets and falsehoods perpetrated by millionaires like Choak.
On the other hand, we've found that many people have been curious to know if Allegra Edwards, who plays the role of Ingrid in the series, is pregnant. Well, let's find it out.
Previously, we touched on if Andy Allo is pregnant & who her partner is.
Is Allegra Edwards Really Pregnant?
With the release of Upload season 3, all of the cast is currently are on the spotlight, including Allegra Edwards (@allegra_edwards). Among all queries and curiosity, we've found that most people are interested to know if she is pregnant.
Well, the Ingrid actress has not addressed if she is expecting a baby at the moment. We went through her Instagram and found nothing about her possible pregnancy. However, we have an idea of how the rumor might have started.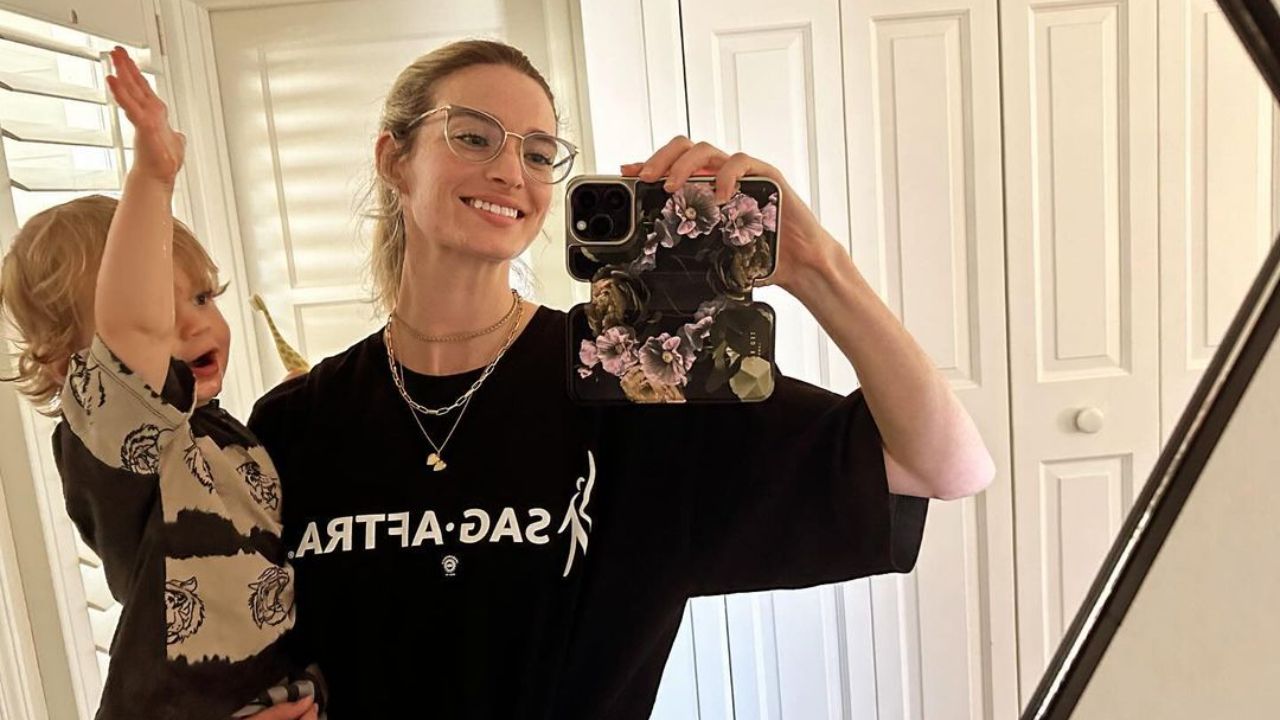 Allegra Edwards does not appear to be pregnant in 2023.
Image Source: Instagram
If you go through her Instagram, you can see a picture of Allegra Edwards and her husband holding her baby bump. Even though it was uploaded on May 15 of this year, we would like to clarify that the picture is from the time she was pregnant with her first child. She just posted the picture on the occasion of Mother's Day, showing how proud she is of being a mother.
She and her husband welcomed their son, Howard Douglas Snyder, on July 12, 2022. Given that it has been just over a year since the arrival of her first child, it's very unlikely Allegra is pregnant again.
Fans continue to admire Allegra Edwards' work in the entertainment business, while she and her husband are enjoying their journey into parenting. Allegra's privacy in her personal life is respected, and any updates about her family would most likely come from the couple themselves. For the time being, their only focus is on the joy offered by their son.
Will There Be Season 4 of Upload?
Upload has not been renewed for Season 4 yet. Prime Video has yet to decide on the future of the sci-fi comedy series, but the data points to an obvious renewal possibility. At this point, the streaming platform may simply be waiting until the finale is released before confirming the renewal, as has been the case in numerous cases recently.
Upload has not been renewed for Season 4 yet.
Image Source: Amazon
The show is a big hit for Prime Video; after all, it is their number-one comedy series. The show is consistently ranked in the top ten on the company's top ten lists and is highly acclaimed, thus it appears to be a near-certain renewal option. The most recent season currently has an 83% fresh score on Rotten Tomatoes, which is roughly identical to the audience score. On IMDb, the series has a 7.9/10 total rating.
Looking back at Upload's renewal history, it appears that Prime Video often takes a few months to consider viewership data before making a final choice. Season 3 of Upload was not approved until three months after the show's Season 2 finale. Fans will, hopefully, be kept up to date in the coming months.
Even though the final episodes of the show have not been revealed and the creators have not given any indication, we believe Upload will soon be renewed for its fourth season.